Robert Leedy received the honor of being voted ONE of the NINE BEST ART TEACHERS in Jacksonville (out of 178 instructors overall) by Expertise.com for the consecutive years of 2017 & 2018.
Here's what they said: "Robert Leedy Watercolors focuses on teaching students the fun and challenging medium of watercolor painting. The accomplished Jacksonville-area artist conducts classes, workshops, and private studio instruction where participants learn the foundational principles of art and watercolor painting. He welcomes students of all skill levels from beginning through advanced depending on the individual class session. Classes are designed as on-going, however, the instructor welcomes new student participation. Robert Leedy Watercolors exposes students to color mixtures, color mingling, design, composition, value structure, brush handling, glazing, and many other fundamental skills. The instructor maintains a relaxed and non-intimidating atmosphere in which students can learn and explore the world of watercolor painting. Robert Leedy Watercolors emphasizes working with light and bold color while encouraging individuals to develop and pursue a personal style."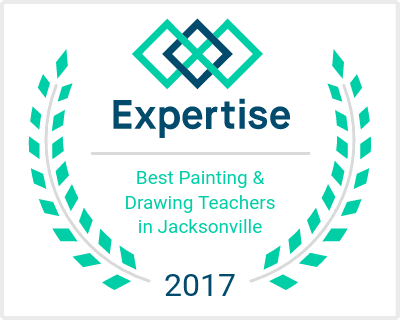 In addition to classes & workshops offered below, private instruction classes from my studio are available based on schedule availability. My private instruction rate is $50 per hour with a minimum of 3 hours per session. To make this more affordable, I offer the same group rate at the same minimum 3 hour session with a maximum of 3 students per private instruction. For larger groups interested in private instruction, contact me for rates and availability. Art materials are not included with private instruction.
PLEIN AIR WATERCOLOR WITH ROBERT LEEDY
Mondays, 10:00 am - 1:00 pm, January 7th thru February 11th, 2019. (six classes)
Don't let January weather scare you! This is Florida! It's time to head outdoors and paint in our wonderful North Florida environment! Watercolor is the perfect medium for painting outdoors or en plein aire! Robert Leedy will show you how relaxing and rewarding it truly is! We will meet on location at pre-determined sites by the group. Students will learn how to edit and simplify the landscape while getting help with washes, brushwork, color mixing, and value. There will be an emphasis on working with light and bold color through the use of fluid washes and retaining the white of the paper. Open to Beginning, Intermediate and Advanced students. Individual attention will be stressed. Bring your lunch and stay longer to paint. This will be a fun class!
To reserve your space - Call (904) 398-3161, ext.319.
Cost: $195
Materials not included. Class participants receive a "SPECIAL 25% DISCOUNT" on all art supplies sold at Reddi-Arts.
WATERCOLOR IMMERSION IN ITALY WITH ROBERT LEEDY
Saturday, June 1st thru June 8th, 2019
I was invited back for a second year to teach this fabulous week-long class in the heart of Tuscany! We will stay at San Fedele, a 12th century former monastery just outside of Siena, Italy. The accommodations are outstanding and we will have a private chef prepare typical cuisine from locally sourced ingredients. il Chiostro, a company out of New York that specializes in creative adventures throughout Italy, will take care of all of our needs so that we may focus on painting. il Chiostro and the owners of San Fedele have partnered to form The Tuscan Renaissance Center which is on site and will serve as our working studio. We will also paint on location at the various towns we visit to see museums, markets and wineries. My goal is to immerse you in watercolor (in a comfortable manner, at your own speed, of course) and improve your skill level. Open to all levels, the emphasis is on individual instruction as I guide you through techniques such as color mingling, value control, granulating washes, simplifying the subject and more. It is a great week-long experience and you will leave fully refreshed, relaxed, energized and inspired!
Cost: $2,895
(INCLUDED: Your room based on double-occupancy, breakfast & dinners with wine, local transportation. NOT INCLUDED: Airfare, transportation to Florence, lunches, winery meals or tips.)
Space is limited to 10 students. A $500 deposit will secure your space.
CLICK HERE TO REGISTER FOR WATERCOLOR IMMERSION IN ITALY WITH ROBERT LEEDY