Robert Leedy received the honor of being voted ONE of the NINE BEST ART TEACHERS in Jacksonville (out of 178 instructors overall) by Expertise.com for the consecutive years of 2017 & 2018.
Here's what they said: "Robert Leedy Watercolors focuses on teaching students the fun and challenging medium of watercolor painting. The accomplished Jacksonville-area artist conducts classes, workshops, and private studio instruction where participants learn the foundational principles of art and watercolor painting. He welcomes students of all skill levels from beginning through advanced depending on the individual class session. Classes are designed as on-going, however, the instructor welcomes new student participation. Robert Leedy Watercolors exposes students to color mixtures, color mingling, design, composition, value structure, brush handling, glazing, and many other fundamental skills. The instructor maintains a relaxed and non-intimidating atmosphere in which students can learn and explore the world of watercolor painting. Robert Leedy Watercolors emphasizes working with light and bold color while encouraging individuals to develop and pursue a personal style."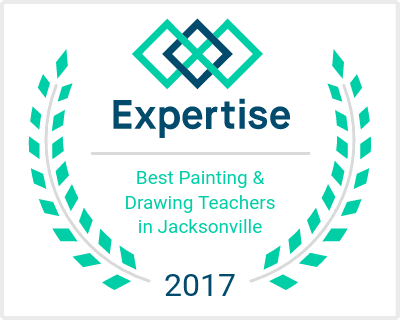 No classes or workshops are scheduled at the moment. I am offering private instruction classes from my studio based on schedule availability. My private instruction rate is $50 per hour with a minimum of 3 hours per session. To make this more affordable, I offer the same group rate at the same minimum 3 hour session with a maximum of 3 students per private instruction. For larger groups interested in private instruction, contact me for rates and availability. Art materials are not included with private instruction. My studio is located in Jacksonville, Florida's Riverside neighborhood - at the CoRK Arts District, 603 King Street.